Getting everyone back together safely!
Due to the COVID-19 Pandemic we have been unable to meet in the ways we used to. As we move into and out of lockdowns the rules surrounding the face to face meeting of the Sections changes. The latest status is always displayed at the top of our website. The guidance given to us around this is informed by the Department for Media, Culture and Sport which means the rules differ slightly to the ones given to formal education. The National Youth Association (NYA) produce guidance for all Youth Groups based on this and have set a 4 colour traffic light system which is as follows: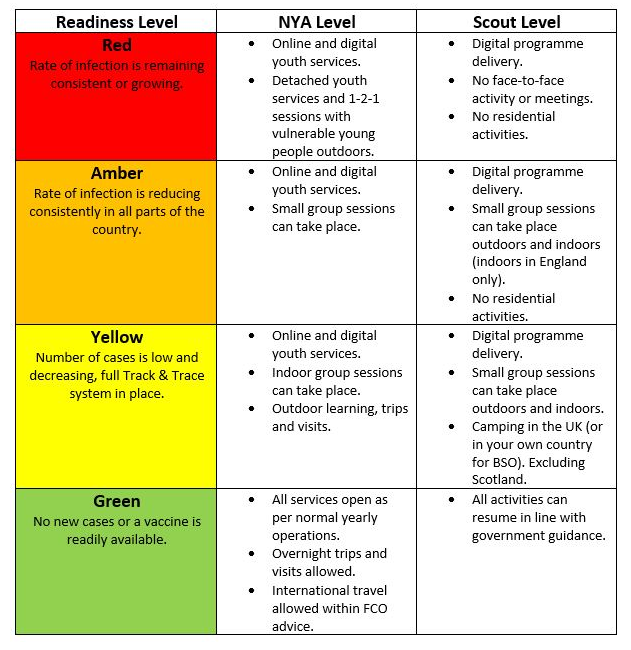 The full Scout Association guidance and other information can be found here.
As a Group we have produced a policy and Risk Assessments which have to be approved by the District Commissioner (or their delegates). All approved Risk Assessments can be seen below along with our policy:
13th Wimbledon Scouts and SSESU COVID-19 Policy
SSESU St John Fisher School Risk Assessment
SSESU Cannon Hill Common Risk Assessment
SSESU St Saviour's Church Risk Assessment
13th Wimbledon Scouts Cannon Hill Common Risk Assessment
13th Wimbledon Scouts St John Fisher School Risk Assessment
13th Wimbledon Scouts Bike Ride Risk Assessment
13th Wimbledon Cubs Cannon Hill Common Risk Assessment
13th Wimbledon Cubs St John Fisher School Risk Assessment
13th Wimbledon Beavers St John Fisher School Risk Assessment