Stay Safe and Warm!
Boots
Socks
Base Layers
Mid Layers
Outer Layers
Gloves
Hats
Rucksacks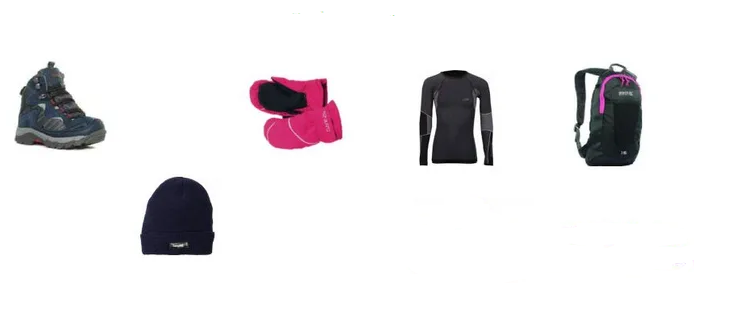 ---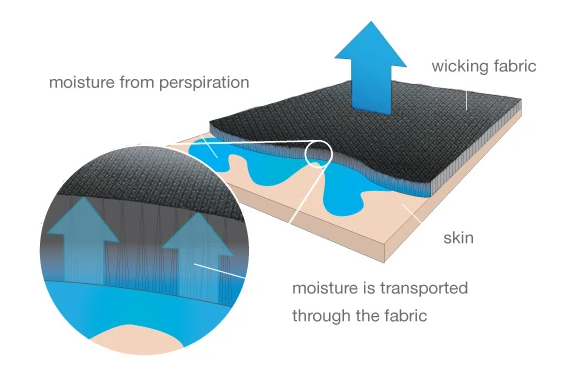 Wicking fabrics are modern technical fabrics which draw moisture away from the body. They are made of high-tech polyester, which, unlike cotton, absorbs very little water. Cotton will absorb 7% of its weight in water, polyester only 0.4%.
---
Socks and Boots
Avoid cotton socks and select those designed for walking or skiing. I wear 'tubes' that are designed for skiing and adjust to the size and shape of your foot. Some people like to wear liner socks to that can reduce the risk of blisters and increase warmth. They are likely to get wet so have spare pairs in addition to what you need for each day.

Make sure boots are more than just robust trainers. They need a good sole, support around the ankles and a tongue that does not allow water in if the water comes over the top of the laces.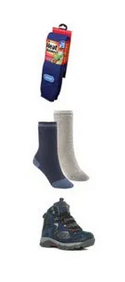 ---

Base Layers
Good base layers will help to keep you dry from the inside out. Should be a 'wicking fabric' that wicks away the sweat from your body. Ideally avoid cotton next to your body
Mid-Layer
Fleece: Ideally 'heavyweight' rather than 'mid-weight' or 'lightweight' fleece. Otherwise, include an additional long-sleeved layer underneath. Warm shirt – can wear along with mid- or lightweight fleece
Other long or short-sleeved garments in wicking fabrics can also be used to give additional mid-layer protection
---
Trousers
Denim jeans or cotton trousers should never be worn on mountains as they absorb water easily then stick to your skin.
Most outdoor shops have a good range of walking trousers that are windproof for light winds but a long base layer is advisable to protect against strong, cold winds.
Lined nylon tracksuit bottoms can be a good alternative
Waterproof trousers and over trousers
Sallopettes and padded ski trousers generally give good protection from the wind and up to a point, rain. However, like ski jackets, they are likely not to be totally waterproof in driving rain so additional waterproof over trousers is advisable for severe conditions.
Waterproof over trousers should be capable of withstanding more than light showers. Quarter or half-zipped legs make it much easier to put them on or take them off without removing the boots.

---

Hats
Hats protect you from cold temperatures and high winds. Look for a tight weave and/or a lining to enhance wind protection. Should be able to cover the ears and back of the neck.
Cap – For very sunny weather to guard against sun burn and sun stroke. Particularly important for fair haired/fair skinned scouts.
Gloves and mittens
Woollen gloves only protect against light chill winds and are unsuitable in rain. Only bring if you have proper mountain gloves/mittens as well.
Fleece gloves only protect against light chill winds, unless they are lined, and are unsuitable in rain. Only bring if you have proper mountain gloves/mittens as well.
Ski type gloves give much great protection from wind and rain but not necessarily 100% protection in driving rain.
Ski type mittens, similar to ski type gloves.
Unless you pay a great deal for gloves or mittens they are unlikely to be totally waterproof in driving rain. Waterproof over mittens are an option that give added protection against wind and rain. They are not a replacement for proper gloves or mittens.
---
Day rucksacks
There are thousands of different designs for day rucksacks. I would suggest one that is 20- 30 litres. Scouts normally need to carry their waterproofs, and any other clothes they are not wearing, which could include their jacket, plus their packed lunch and fluids.
Look for padded straps. Make sure it is comfortable to wear and that when the straps are done up to the maximum the bag does not still sag on their back.
Get the right one and it can last for years. Buy too cheap and the buckles will break and the fabric tear under stress.
Dry Sacks: No rucksack will be 100% waterproof and if there is heavy rain and strong winds the water will get in. Even if you have a rain cover incorporated into your rucksack, this is very likely to detach in strong winds. You might therefore consider buying a dry sack to put inside the rucksack to keep spare clothes dry. There are good deals on the internet. The alternative is to put a plastic bin liner inside the rucksack before you pack it.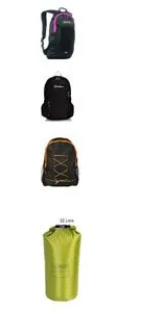 Final Tips

Mountain weather can be very unpredictable. We need to be prepared for hot bright sunshine right through to very windy, cold blizzard conditions. Good quality gear is essential.

However, as a parent I understand how kids grow rapidly and you don't want to pay out lots of money on gear that they may only use once.
Here are some tips:
• Talk to friends whose children are a little older and been hill walking or skiing that may be able to lend or even give you gear they have grown out of.
• Look at charity shops, especially in more affluent areas like Wimbledon and Cheam! That is where I disposed of my children's mountain wear. You can get some excellent quality gear for very reasonable prices.
• Shop around – do research into what you want and look for the best deals especially online
Recommended suppliers

Sports Direct: http://www.sportsdirect.com/karrimor – Good variety, reasonable prices
Decathlon: http://www.decathlon.co.uk – Near IKEA Croydon or Wandsworth town. Good for kids mountain gear at very reasonable prices
Millets: http://www.millets.co.uk – Some good basic stuff, worth comparing with Sports Direct
Mountain Warehouse: http://www.mountainwarehouse.com – More upmarket
Cotswold Outdoor: http://www.cotswoldoutdoor.com – Good quality gear and staff know their stuff. Also, scouts can get 15% discount
Cotswold offer 20% discount for leaders and 15% discount for youth member participants on outdoor clothing and equipment. For your online discount code email partnerships@scouts.org.uk quoting your membership number and section details.
To obtain discounts in-store, leaders will need to show their appointment card or Scout card, while Scouts will need to bring along their Scout scarf
Peter Hutton (Skip) April 2016